Latest News
AGM Thursday 30th June 2022
This year we are thankfully back to holding our AGM in person again and will be held on Thursday 30th June at 7.45pm in The Gallery Room, Whitworth Centre, Darley Dale. Please come along and support Darley Dale Twinning.
AGM 29th June 2021 - by email
The notice of the AGM and the call for nominations to the committee will be emailed to all supporters on our mailing list on 1st June 2021. The AGM will be conducted by email because of the continuing Covid situation and the process will be explained in the Notice of AGM.
Would all our supporters please seriously think about coming onto the twinning committee? We need 4 new committee members and your help in maintaining our twinning link is essential if we are to keep going forward. This year we are faced with vacancies due to a number of resignations by committee members who have done many years service and we need some new blood. Some young blood would be fantastic but old blood is just as essential and we look forward to hearing from you.
We have a new member mailing list and if you are a resident of Darley Dale & District and would like to be kept informed of our twinning activities, please email our secretary on bill.jameson@darleydaletwinning.org.uk
21st March 2021
Visit to Onzain May 2021 - CANCELLED - Message from Onzain

We received the following message today from Pierre Bonneville, the President of Onzain Twinning:
Dear friends of Darley Dale, Flein and Onzain

Once again, despite my optimism, we are forced to postpone once more the date for the 30th anniversary of our Twinning Associations planned for May 2021.
For the moment the health aspect doesn't allow us to organise large gatherings for these dates.
We are very sorry, but as things stand we will wait for better days to suggest another date for sure, to eventually meet up again in Onzain to celebrate this event.
In the meantime, we will keep in touch by ( telephone or mail….) to maintain and strengthen our relationship which link us together.
Rest assured, our sincere friendship from all our team.
Pierre
24th February 2021
Visit to Onzain May 2021 - CANCELLED
Recent communications from Onzain indicate that they still seem to be going ahead with the re-arranged weekend this coming May. Our committee has discussed this and feel that, as a responsible organisation, we should not be organising any travel/exchanges in the current Covid 19 situation. Indeed we cannot plan anything from here under the current Covid restrictions.
We have politely told Onzain this and that it is unlikely that we will be able to meet for some time to come. However, in 2024 it will be the 35th anniversary of the twinning relationship and we hope by then that some knid of normality will have evolved and we can celebrate this occasion.
We are in the process of improving our website and, once this is complete, we shall be announcing the arrangements to hold the AGM postponed from last June.
Please keep checking the website and our Facebook page for more information
16th January 2020
Visit to Onzain Friday 22nd May to Monday 25th May 2020
Following the note below of 13th November 2019, only a small number of people have responded to Pat Haworth, our Hosting Coordinator.
If you intend to join this twinning visit to Onzain in May 2020, please advise Pat Haworth urgently with the names of the travellers and their contact details. Please tell Pat whether or not you have already arranged to stay with a host family in Onzain.
Pat's contact details by email : johnstafhaworth@hotmail.com
Please respond urgently as we need to know how many people intend to go, even if your final travel details are not yet sorted out.
13th November 2019
Visit to Onzain Friday 22nd May to Monday 25th May 2020
Next year's twinning weekend in Onzain will be on the above dates.
We have been asked to limit the number of visitors from Darley Dale to about 75 as this will be a very busy weekend of joint twinning anniversary celebrations with both of Onzain's twin towns of Flein and Darley Dale.
Onzain has asked that Darley Dale arrive no later than 6 pm on Friday 22nd May in order to have a meal with hosts and then go to a choir concert in the church. Current planning in Onzain is that the visitors from Flein will return home on Sunday morning, leaving the rest of the day and evening for joint events between Darley Dale and Onzain.
The Twinning Association will not be providing a coach for this visit as the financial risk of the coach not being full and reserved seats not being fulfilled and paid for cannot be accepted.
All visitors, both individual and groups, must make their own travel arrangement to get to Onzain.
Will all prospective individual travellers and group representatives please email the Twinning Committee ( Pat Haworth email johnstafhaworth@hotmail.com) with the following details:
Name of traveller?

Who in Onzain you would like to stay with?

How are you travelling?

Approx time of arrival?

Other details like allergies, special requirements etc
We request that travel arrangements (rail, ferries, air) are booked online through easyfundraising.org.uk. Darley Dale Twinning Association has our own page set up and receives a small commission of all purchases from a huge number of retailers which are made through this site. So far, Twinning has raised £212 from a small number of contributors and the potential is there to raise a lot more.
The unique link to Darley Dale Twinning Association's Easy Fundraising page is below:
https://www.easyfundraising.org.uk/causes/ddta/?invite=3D63V4&referral-campaign=s2s
31st October 2019
Twinning Committee Meeting - Monday 4th November 2019
Our next "open" committee meeting will be on Monday 4 November at 8.00pm in the Oak Room, Barringtons. We shall be discussing the travel and hosting arrangements for going to Onzain next May and we'd like input from as many members as possible. Also, we shall have an update of the negotiations on the working relationship with the Town Council. These meetings are always open for any residents to attend, so if you have an interest or want to know more, please come along.

26th May 2019
AGM 2019 - Wednesday 26th June 2019
Papers for the AGM on Wednesday 26th June 2019 can be found by following the link below.
https://drive.google.com/drive/folders/1p9c0FubEM3cwRJMk_xQ-7zKyPyTryVnK?usp=sharing

22nd May 2019
Twinning Weekend 8/9th June 2019
As part of the Twinning Weekend, there will be "Music in the Park" on Sunday 9th June from 2pm.
Please come along and support the performers - admission free !!!!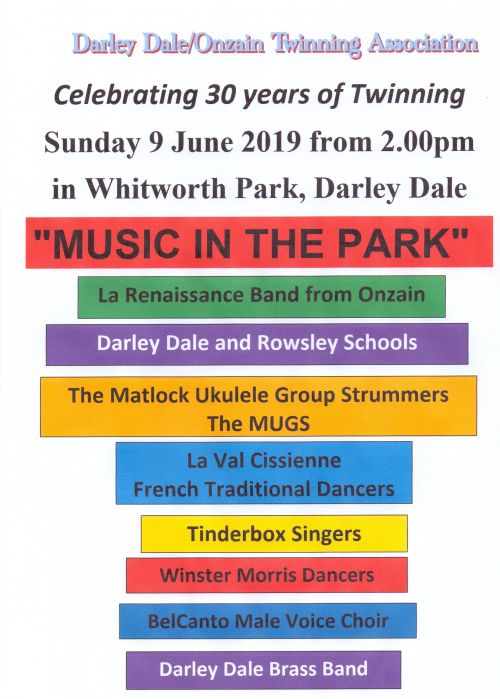 5th March 2019
Hosts for 30th Anniversary Twinning Weekend
7/8/9th June 2019
Anyone who would like to host one of our French visitors on the weekend 7/8/9th June please contact Pat Haworth on email: johnstafhaworth@hotmail.com. If you want to know more about what's involved ring Kevin on 01629 733053.

28th November 2018

St. Helen's Church Darley Dale
Carol Service, 7pm Friday 14th December 2018
Followed by mulled wine and mince pies

Accompanied by
Darley Dale Brass Band
and
Tinderbox Singers
In collaboration with Darley Dale Twinning Association
26th October 2018

Help - Help - Help
2019 - 30th Anniversary Celebrations
How you could be involved
2019 is the 30th anniversary of the forming of the Twinning Association. Over all these years, we have made many friends, in our French twin town, Onzain. They and others have been invited to send a group to Darley Dale, to celebrate this achievement, on the weekend of 8/9 June 2019. For this special occasion, it is likely that there will be a large number of visitors and we need to find host families, who would be willing to accommodate any one them, or more, if you have the room. We are planning a programme of events/activities that will include some meals, to reduce the number that host families provide.
If you would like to help us in this way, or maybe you are able to offer something else, please get in touch with Chair of the Twinning Association, Kevin Senior - 01629 733053 / 07768 922003 - you could also ring him to get more information about what is involved. Speaking French is not compulsory, as most of our visitors speak some English.
So far, our provisional programme will include an official welcome by the Mayor of Darley Dale, a visit to Tissington Hall - led by Sir Richard Fitzherbert, communal meal in the Whitworth Ballroom, Sunday morning service at St. Helen's Church.
On the Sunday afternoon we shall be organising a "Music in the Park" event. This will be open for everyone in Darley Dale to come along to see and enjoy the musical talent we have in the area; as well as the French musicians travelling over to perform for us.
Check our our website - www.darleydaletwinning.org.uk - for more information about the Twinning Association and get the latest information for the celebration weekend.

27th September 2018

30th Anniversary Onzain visit to Darley Dale
We have a provisional date of the weekend of 8th / 9th June 2019 for the Onzain visit to Darley Dale to celebrate the 30th anniversary of the establishment of the twinning link. This date is subject to confirmation by Onzain.
A preliminary programme for the weekend is as follows and is subject to development and possible change:
Friday 7th June - evening arrival of French guests and meal with hosts.
Saturday 8th June - AM - free time with hosts
Saturday 8th June - PM - official reception by DDTC, picnic and a communal visit to a local Derbyshire event or location.
Saturday 8th June - Evening - A communal meal followed by evening entertainment.
Sunday 9th June - AM - free time with hosts or Church service at St Helen's
Sunday 9th June - PM - musical events in the Whitworth Park
Sunday 9th June - Evening - free time with hosts, Darley Dale Brass Band concert at Barrington's.
Monday 10th June - early morning departure of French guests.
Please put these PROVISIONAL dates in your diaries. Needless to say, we will be needing hosts and helpers for the weekend so we would be very grateful if you could please respond positively when we ask for hosts and volunteers.
3rd July 2018
Message from Chairman Kevin Senior - Appeal for Help
Dear friends,

The Twinning AGM was held on the 26th June with 10 attendees including the new Mayor but despite the disappointingly poor attendance after such a great weekend in Onzain, the Committee was able to demonstrate to her our enthusiasm and commitment to the Twinning and she in response showed interest in reviving our public relations and working agreement with the Council.
2019 will be the 30th Anniversary of the Onzain and Darley Dale partnership and it is our hope to invite our friends from Onzain to Daley Dale to celebrate this occasion. Events have yet to be planned and in due course I shall be asking for volunteers to help put the weekend together as your support is essential to making the weekend a success.
We are pleased to report that we gained an additional committee member at the AGM but we are still short of a secretary to support the committee. This role is not an onerous one as long gone are the days of paper communications between our committee and Onzain. The role essentially consists of arranging the committee meetings (normally about 3 or 4 per year excluding special meetings for particular events), arranging the agenda with the Chairman and taking the minutes for distribution by email to the committee. Communications between our committee and Onzain are usually done by email between the two Chairmen. Over 70 people travelled to Onzain for the recent twinning weekend and if just one person from that group, or a member of their family or one of their friends could volunteer a small amount of time to help the committee by taking on the role of secretary, this would help the Twinning Association enormously.

Thank you in anticipation, Regards,
Kevin.
9th June 2018
AGM 2018
Please follow the link below to see the details of the AGM 2018 and associated papers.
The AGM is at 8pm on Tuesday 26th June 2018 at Barrington's, Darley Dale.
11th May 2018
Opportunity for education exchange - GCSE/A level French student
Message from Kevin Senior, Chair of Twinning....

bernard.montagnon@free.fr
I should be very pleased to receive details of such a family who would like to take up this opportunity for a simple exchange.
We see this as a personal arrangement which can be facilitated by the Twinning Association and I'd be happy to have a chat with any interested families if this would help. We do not have any other information at the moment."
Kevin Senior
Chair
Darley Dale & District Twinning Association."
Visit to Onzain 16/17th June 2018 (the full dates are Friday15th to Monday18th June)

Dear friends,
Firstly, would everybody please note that this visit is open to all residents of Darley Dale and surrounding areas and not just members of the Twinning Association, also .........

we are now at the point of real commitment.
I have to send a non-returnable deposit to Slacks Coaches but need twinning passengers to reply pdq - as per the forms attached. Without that deposit the coach 's channel crossing booking will be lost and being a large vehicle its not as easy to change the crossing details as you would for a car.
Please complete and return the attached forms a.s.a.p. - thanks
1. Letter from Chairman of the Twinning Association
2. Consent form for under 18's travelling without a parent/carer
3. Personal details of travellers

Kevin
Chair
Darley Dale Twinning Association
2nd November 2017
Visit to Onzain 16/17th June 2018 - meeting 21st November 2017

A meeting to discuss travel and our stay in Onzain on weekend of 16/17 June 2018 - in Barringtons, Darley Dale on
Tuesday 21 November at 8.00p.m
Any groups or individuals, who would like to join us on the trip, should come along and help put together a cunning plan.
This is a preliminary planning meeting so any individual or group representative is invited along to input ideas or just find out what the plans are so far.
21st August 2017
SAVE THE DATE - Visit to Onzain 16/17 June 2018

We have now agreed with the Onzain Jumelage Committee that we will travel to Onzain for the next exchange visit over the weekend 16 /17th June 2018.
Please mark this in your diaries if you wish to join with us in the visit which we are sure will be a good one, with a fair chance of sunny weather.
Further details will be issued in due course.

17th March 2017
AGM 2017

Our AGM this year will be on Tuesday 20th June 2017 probably at the Whitworth Centre but location is to be confirmed.
This year our AGM is especially important as we have a number of our twinning committee who are retiring from their posts after many years of service and we need replacements in order to continue with our very successful twinning link.
We have an urgent need for new committee members to undertake important roles. If you think you can help and have some ideas and enthusiasm to make these happen, please speak to Kevin Senior or Bill Jameson. Nomination forms will be available with the AGM papers from mid-May 2017 so please seriously consider putting your name forward for the committee.
Visit to Onzain 2018
We have been invited to visit Onzain for a twinning exchange next year 2018 and we are proposing to go in June 2018 on a weekend yet to be agreed between us and Onzain. Please make a note in your diaries for June 2018 we hope to be able to confirm the date after Easter 2017.
12th April 2016

AGM Tuesday 26th April 2016

The following papers for the AGM on Tuesday 26th April 2016, 8pm in the Lady Whitworth Room, Whitworth Centre, Darley Dale, can be found by following the link below:


https://drive.google.com/folderview?id=0BzmUtijZxn-iY1BKaDhHZmxXTHc&usp=sharing

1. Agenda and nominations to the general committee.

2. Minutes of the last AGM 2015.

3. Chair's Report for AGM 2016.

4. Treasurer's Report for AGM 2016 and Accounts for 2015-16

Refreshments -wine & nibbles - will be served after the AGM at approx 8.30 pm

Please note that all are welcome to the AGM but only members who have paid their subscriptions for 2015-16 will be eligible to vote in the election of the committee.
2nd April 2016
Visit to Onzain 4/5th June 2016
Thank you to everybody who responded (positively and negatively) to the invitation to join in the visit to Onzain in June.
There will be a small group of about 15 to 20 members travelling to Onzain. The large groups that sometime travel will not be going this year so there will NOT be a coach booked and all travellers must make their own arrangements to get to Onzain for the weekend.
A number of members have indicated that they have previous commitments over the twinning weekend and regrettably cannot join in on this occasion. We will try to arrange next year's (2017) exchange much further in advance to enable more people to plan their diaries. This year Onzain could not receive us on our proposed dates in May and gave us the June date as an alternative.
Bill will establish separate contact with those who have indicated they wish to go to Onzain.
We invite anybody who has not yet responded or who changes their mind or arrangements to contact Bill by email and he will add them to the list of travellers.
18th February 2016
Mad March Music Night Saturday 5th March 2016

Our Mad March Music night on 5 March needs more support - please get your tickets soon and before our cut off date of 22 February. We do need these fund-raising events to ensure our longevity.
ALSO - we are now on Facebook so find us on "Darley Dale Twinning Association" and receive notifications direct to your Facebook page.

17th February 2016

Visit to Onzain 4/5th June 2016
We are proposing to visit Onzain this year over the weekend of 4th and 5th June 2016. We know that Onzain can accommodate us on this weekend so will all those who would like to join in this twinning visit please let Bill Jameson or another committee member know (by email) by FRIDAY 18th MARCH 2016. The weekend will of course involve travelling out there on Friday 3rd June and returning Monday 6th June. Please respond by the deadline as we have decisions to make depending on the numbers who wish to go.

23rd January 2016
Mad March Music Night. Saturday 5th March 2016
Futher to my "save the date" email, here are the details of our social / fundraising evening to be held in the Terrace Room at the Whitworth Centre, Darley Dale on Saturday 5th March 2016, 7.30 pm to 10.30 pm.
Music will be by the TWO BLACK EYES party band and promises to be a great night.
There will be a cash bar on the night and a buffet of party snacks will be provided during the interval break.
As usual we will have a raffle for much sought after prizes and raffle tickets will be on sale during the evening.
Tickets for the evening are priced at £8 each for members of the twinning association and £10 for non members. Tickets must be purchased in advance and will not be for sale on the night.
We are not permitted to bring our own drinks, hence the cash bar.
Please remember that the room is of limited capacity so please get your tickets early by return email to Bill Jameson or contact any other committee member- Kevin Senior, Rob & Tracey Annable, Ruth Shooter, Mags Robinson, Sandy Doyles, Jane Mounsey or Dave Oakley.
Rob Annable has masterminded this evening and tickets are also available from him on his email robannableddjfc@yahoo.co.uk, tel 01629 823193 or text to his mobile 07796 129916 - please phone only in the evenings or weekends.

PLEASE SUPPORT THIS SOCIAL AND FUNDRAISER FOR THE TWINNING ASSOCIATION IN WHAT SHOULD BE ANOTHER FANTASTIC PARTY NIGHT!

26th May 2015
25th anniversary twinning weekend in Darley Dale, 23/24th May 2015
Thank you letter from Kevin Senior, Twinning Association Chair


Dear Twinners Monday 25th May 2015
Sorry to wake you from your well-earned slumbers but I must send you this message.
Well, what a weekend. Hectic to say the least but we did it, we survived, we're here to tell some wonderful tales and, if I may say, have enjoyed an amazing time, together with our French friends.
Thank you for being involved, for taking part in the activities and for sharing your homes with longstanding friends and for some, strangers, who are no longer so. I make no apologies for being biased but in my experiences, the Onzainais are such friendly generous people. Their doors are always open to us at any time; not just during an exchange weekend. Please accept their open invitation to visit them at any time by simply keeping in touch with your recent guest(s) and arranging your own visits.
In the near future, the committee will be discussing dates to go to Onzain in 2016 and we shall publicise, whatever we agree with our French counterparts, in the usual ways.
I have received so many complimentary comments and not one real complaint. I may well be the guy up front enjoying what you have said to me about the weekend. But many people work very hard for this to happen and avoid me getting flack. Without their major contributions, I would not be in that position and I do wish to make that known to you all.
Catering, activities, sponsorship, facilities all take some organising. It would not be right to forget our Vice-chair, Sandy Doyles, who had started co-ordinating hosts and guests and then, very unfortunately, had a stroke. She is making such a good recovery, although it is still early days, but was not well enough to join us for the celebrations. However, our very erstwhile secretary, Bill Jameson, picked up where Sandy left off and finished the job on her behalf; apart from dealing with all the correspondence to/from you. Our catering team was lead by Ruth Shooter and you ate the sumptuous result they put together for the Saturday lunch. Dave Oakley, Rob Annable, Bill and myself organised the activities/events, which we hope you also enjoyed.
Notwithstanding, we don't always get it right, so please let us know if you have any (polite) suggestions to improve what we do.
To pinch a phrase from the 2012 Olympics "The best games yet".
Thank you all once more
Kevin
Chair
24th April 2015
25th anniversary twinning weekend in Darley Dale, 23/24th May 2015

The programme for the weekend is pretty well finalised and the headlines are shown below. There is a detailed programme for the weekend which will be presented at the AGM (29.4.15) and will also be in the information pack for hosts.
Saturday 23rdMay
10.30am Coach and minibus arrive at Darley Dale Primary School,
Official Welcome Reception.
12.00 noon Picnic lunch at the school
1.30 to 4.30pm Entertainment in the school grounds - performances by Darley Dale PS, Rowsley PS and South Darley PS, walking football, archery, cycling simulator and perhaps music and dancing from Onzain. Also a bouncy castle for the young ones!
Evening meal with host families
7.30 - 10.30pm Concert in Whitworth Centre with Darley Dale Band & la Renaissance Band from Onzain.
Sunday 24thMay
Breakfast with host families
11.00am Church Service in English & French at St. Helen's or visit Carriage Museum at Red House Stables.
12.00noon Lunch at St Helen's
2.00 - 5.30pm Entertainment in the Whitworth Park- Dancing by la Valcisienne from Onzain, music from la Renaissance Band, carriage rides by Red House Stables, Winster Morris, Peak Rail train ride, croquet demonstrations, art exhibition by Open Arts.
Evening meal with host families
Monday 25thMay
Early morning - time to be advised, coach and minibus depart from Darley
Dale Primary School
21st February 2015
25th anniversary twinning weekend in Darley Dale 22/23/24 May 2015

Would you be able to host some French visitors from Onzain this May?
We have now started to receive lists of names from Onzain who will be coming here in May. The Onzain band, La Renaissance, and the dancers, La Valcissienne, have confirmed so we know there will be about 80 people from Onzain.
After the call for hosts last year, many kindly replied and we have hosting promised for about 50 adults and 10 children. We clearly need many more hosts so I would be grateful if you would please complete the short questionnaire on the link below. Don't forget to add your name and email address where asked and click on "submit" after answering the questions.
https://docs.google.com/forms/d/11BXTI-c1PUn-FsmBrWm5X-2GHF9QfNWqlXMeSi5xKBs/viewform
Planning for the weekend is progressing well and the following outline programme is being worked up:
Friday 22nd May - Onzain arrive early evening, reception by Darley Dale Town Council.
Saturday 23rd May - Morning with host families, afternoon picnic and events at Darley Dale Primary School.
Saturday evening - concert in the Whitworth ballroom with La Renaissance and Darley Dale Band.
Sunday 24th May - morning service at St Helen's Church, afternoon music in the Whitworth Park with the brass bands, La Valcissienne, Winster Morris and we hope some other surprise perfomances!
Sunday evening with host families
Monday morning - depart - it's all over!!
12th November 2014
Christmas Concert at St Helen's Church 5th December 2014

St Helen's Church and Darley Dale Twinning Association are presenting a concert of Christmas seasonal music at St Helen's on Friday 5th December 2014 at 7.15pm.

Music and songs will be performed by Darley Dale Brass Band and the choir of S.Anselm's School.

Tickets £5 adult, £3 children which includes a mince pie & mulled wine after the concert.

For children there will be biscuits and a soft drink.

Tickets from Bill Jameson on email wejameson@gmail.com or any committee member.
You can also pay on the door if there is any room left!

Please support this concert which will raise funds for the Twinning Association

10th August 2014
Stitching & Knitting Exhibition 16th & 17th August 2014
Please come along to the Whitworth Centre next Saturday and Sunday to see an exhibition of stitching & knitting by this local Darley Dale group. Some members of the twinning association will be there displaying their handiwork. On the 20th anniversary of the Darley Dale-Onzain twinning in 2009, some of the ladies in this group stitched a large commemorative quilt which is displayed in the Hotel de Ville in Onzain, see photo below.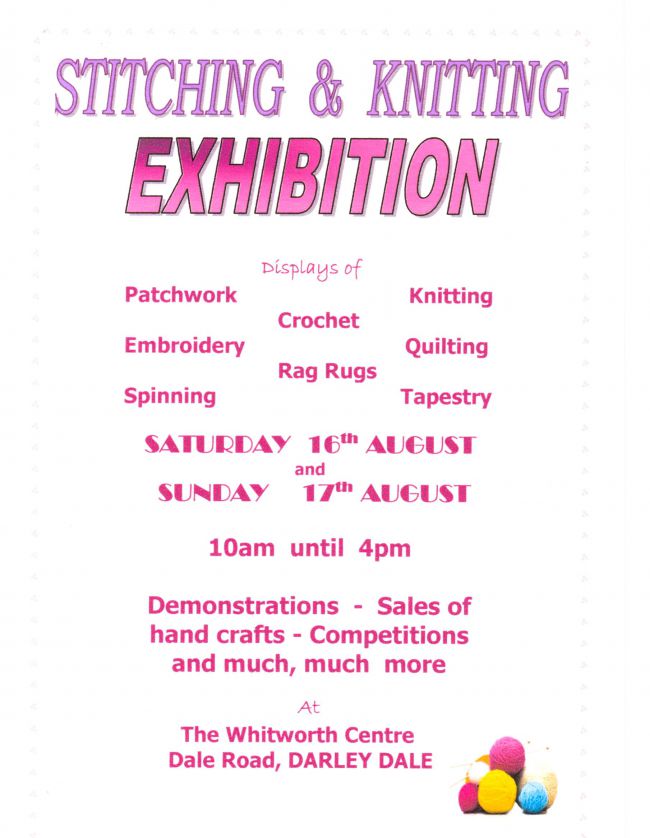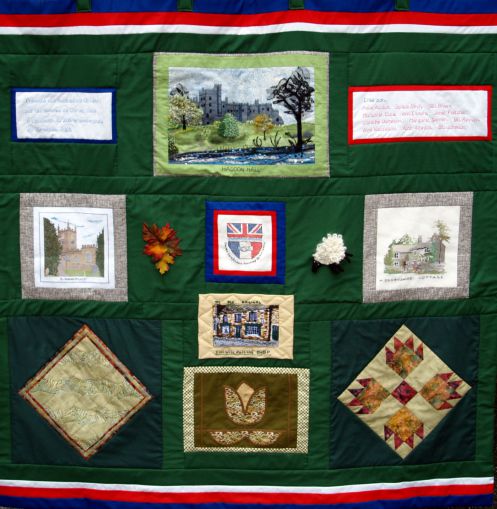 26th April 2014
25th Anniversary visit to Onzain 21/22 June 2014
We have had some drop outs from the coach and we now have 4 places available for the return trip to Onzain, leaving Thursday evening 19th June and arriving back in Darley Dale about 10pm on Monday 23rd June. Tickets priced Adult £75, Children (16 years or under) £45. Please email Bill Jameson.
We have received the following programme for the weekend in Onzain, always of course subject to possible change:
Friday 20th June
Friday afternoon 15.00: visit of the school in Chaumont by the party from Rowsley School and others who are interested.

Friday 16.45 "goûter" with the teacher/headmaster Mr Neri and the children offered by the school.

Friday 18.00: pot daccueil offered by Onzain local authority. Unfortunately the new mayor will not be present as he has a family commitment.

Friday evening: Meal with hosts
Saturday 21st June

Saturday morning: with hosting family.
Meeting for the two committees to discuss the future as usual.

Saturday lunchtime:
Picnic brought by the hosting families and apero+wine+cakes offered by the Twinning commitee.
The Midalain group will entertain (music and songs)
Any musician or dancer will be welcome to join in and mix.

Late afternoon with hosting family+early meal.

Saturday evening: 20.00 pm Fete de la musique in Chambord (big event)

Sunday 22nd June
Sunday 10.30 : Service in church musicians will play / sing

Sunday 11.30 March in Onzain to the Square
Speeches
Music and dance : DD band, La Renaissance, Morris Dancers, La Valcissienne ( 10 minutes each maximum)

Sunday lunch with hosting family

Sunday 15.00: fete de la musique à Onzain
Ecole Maurice Genevois. All sorts of musicians (amateurs / professionals), any age
play or sing all sorts of instruments or songs.
Participation of Darley Dale Band, singers and Morris Dancers +la Renaissance and others.

Sunday Evening: apero dînatoire
Drinks and food + more music

Depending on the weather the various activities will take place indoors or outdoors.
Monday 23rd June
Early morning departure of coach to Darley Dale
6th April 2014
AGM 2014 Tuesday 29th April 2014, 8pm Whitworth Centre.
We are fortunate to have received a funding grant from Derbyshire County Council for our twinning initiatives and in particular the 25th anniversary celebrations this year. Just before the start of the AGM, Cllr Mike Longden of DCC will present us will a cheque for £500.
The AGM itself will be brief, consisting of a review of the Chairman's and Treasurer's reports for 2013-14 followed by the election of the committee for 2014-15. The agenda, including the names of the candidates and the reports, will be emailed to members on 15th April.
After the AGM there will be refreshments and an update on the twinning weekend in Onzain including an opportunity to purchase one or more of the commemorative wine coasters which your committee is asking all travellers to Onzain to purchase as a gift for their hosts. More details of this will be given in a separate email. There will also be an opportunity to pay the balance of the coach fares, again more details in a separate email.
We would like as many as possible of those travelling to Onzain to attend or be represented at the AGM and would be grateful if you would confirm whether or not you will be able to attend by email to Bill Jameson.

21st February 2014
AGM 2014
This year our AGM will be earlier than usual and will be on Tuesday 29th April 2014, 8pm at the Whitworth Centre, Darley Dale. Our AGM is usually in June but as this would clash with our 25th anniversary visit to Onzain we have decided to have it earlier. As this date is before what is normally considered the "holiday season", we hope more members will be available to attend.
After the AGM, at about 8.30pm, we usually enjoy some drinks and refreshments and this year we hope that all those travelling to Onzain in June will come along to meet each other and discuss any questions they may have about the trip.
Further details will be sent out with the AGM papers next month.
25th Anniversary visit to Onzain 21/22 June 2014
COACH NOW FULL - THANK YOU
We still need more people to travel by coach. We have about 30 confirmed seats taken so a coach will definitely be going, but clearly we need to do our best to fill the coach to keep costs down. If you haven't already done so, please confirm by the end of this month (February) by emailing Bill Jameson. Seat prices are £80 return and we will be asking for £30 deposit per seat to confirm your place. We hope to get some grant funding to subsidise the cost of children's (aged 16 and under) fares but we can't confirm this yet.
The coach will leave Darley Dale at 7.30pm on Thursday 19th June and arrive in Onzain about lunchtime on Friday 20th June. Children travelling will then get a chance to visit their linked school in Onzain and get some experience of what goes on in a French classroom. They will of course be able to meet the French children who they will socialise with over the weekend. The coach will leave Onzain early Monday morning 23rd June and arrive back in Darley Dale about 10pm the same day.
Photo Book for visits over 25 years
We are looking at the idea of producing a photo book with photos taken at each of the twinning events held over the last 25 years. If you have any photos which you think would be good to include, please send them to Mike & Sandy Doyles. They will scan any prints and return the originals to you. We are particularly interested in photos from the first 10 years 1989 -99 but also any good ones from later years would be welcome.

18th November 2013
25th Anniversary of Darley Dale / Onzain Twinning Association
Visit to Onzain on weekend 21/22 June 2014
We need to start to get an idea of the numbers of people who may be interested in going to France for the anniversary weekend next year.
For those who haven't been on a twinning visit before, a brief outline of what happens is set out below.

On the weekend of 21/22 June we are taking a group of "Twinners" to Onzain
More than likely, this will involve travelling on the Friday and Monday before and after the actual weekend
Details of travel modes will be available soon - these will include approx. prices for coach, air or car
Apart from travel costs, the only other expense is whatever individuals wish to spend themselves
Accommodation is provided by our twinning families in Onzain, for which there is no charge. However, we do ask all our group to take a 'thank you' present for their hosts
Our friends in Onzain will be arranging a variety of events over the weekend and there will be opportunities to buy local products, souvenirs and wine (direct from the vineyards) around the town centre and surroundings
During our stay, there is usually a concert consisting of entertainment from both towns - already the Winster Morris Dancers are going and Darley Dale Brass Band hope to confirm very soon. The three primary schools around Darley Dale will be asked if they would like to take a small group of children, parents and a performance group
If you think you may be interested in joining in this weekend, please get in touch with us via the Contact Us page on the website or emailing the Secretary directly with your name and contact details together with the numbers of adults and children in your party. We are sorry but we cannot accommodate children who are not accompanied by adults.
We will be reviewing numbers early in the new year so please respond by 1st January 2014.

17th October 2013
CANCELLED
The Rocky Halloween Show - TICKETS AVAILABLE NOW!
Saturday 16th November 2013
7.30pm in the Terrace Room, Whitworth Centre, Darley Dale
Further to our earlier notice about this fundraising event, we have a new date which is:
Saturday 16th November 2013, in the Terrace Room, Whitworth Centre, Darley Dale
The format for the evening will be similar to recent events:
Live music by the folk group "Arf Arted" (their fee for the night will be donated to Ashgate Hospice)
Table snacks provided by the Twinning Association
Bring your own drinks
Raffle
Prize for best fancy dressed Halloween freak
Doors open 7.30pm
Fancy dress is encouraged but is definitely optional.
Please bring your own drinks - there will not be a bar.
Tickets priced £6 for members, £7 non-members, available from Rob Annable Tel 01629 823193 or email robannableddjfc@yahoo.co.uk or contact your local committee member.
Please support this fundraising evening and support both the Twinning Association and Ashgate Hospice.
7th September 2013
25th Anniversary of Darley Dale / Onzain Twinning Association June 2014
We have received an invitation to visit Onzain over the weekend 20/21/23/23 June 2014 to join in with 25th Anniversary (1989-2014) celebrations. Please reserve these dates in your diaries as this should be a great weekend. We are hoping to encourage as many members as possible (and their familes) to travel to Onzain and also take with us members of other local groups to demonstrate the wide range of interests that exist in Darley Dale. Planning is in progress and further updates will be announced.
Social /Fundraising event Saturday 2nd November 2013- NOW CHANGED TO 16th NOVEMBER
We are planning another social event at the Whitworth Centre on Saturday 2nd November based on a Halloween / Rocky Horror theme. It should be good so keep a look out for further news on ticket sales. Please put this in your diaries.
27th April 2013
Onzain visit to Darley Dale Saturday 4th May to Monday 6th May 2013
Final details are as follows:
Saturday 4th May
Arrival at Manchester Airport 16:30pm, Kevin picks up in hired minibus and delivers to Whitworth at 18:30pm for DDTC Reception with tea/coffee, introduced to hosts, depart for homes.
Saturday 4th May
Evening at home for meal with hosts.
Sunday 5th May
09:30am meet at Tansley Village Hall for walk down Lumsdale . Frank Mason leading. Duration of walk about 2 hours. Circular walk back to Tansley Village Hall.
Sunday 5th May
Lunch 12:30pm to 14:00 pm meet at Tansley Village Hall for light sandwich lunch.
Sunday 5th May
14:30pm meet at Black Rock for walk to Cromford Canal & Meadows. Frank Mason leading. Duration of walk about 2 hours. All cars to be parked at Cromford and drivers taken back to Black Rock.

Sunday 5th May
19:30 pm meet for communal party in Whitworth Centre Terrace Room. Meal served at 20:00 pm, beef in beer casserole followed by a seasonal crumble and cream.

Monday 6th May
Morning - free time with hosts
Lunch - lunch with hosts
Monday 6th May
14:30pm meet for gentle walk along Hall Dale, leading to The Plough in Two Dales and meet Winster Morris for a pint and typical English scene in a village pub. Mike Doyles leading, duration of walk about 1.5 hours. Finish about 17:00pm.

Monday 6th May
Evening meal with hosts.
Meet at Whitworth main car park at 20:15hrs for minibus to the airport hotel leaving Darley Dale at 20:30pm.

17th April 2013
Onzain visit to Darley Dale 4th - 7th May 2013
We now have some details of the weekend programme which of course could be subject to change. The outline details are as follows, timings are to be confirmed:
Saturday 4th May - French arrive late afternoon. We will pick them up in a minibus from Manchester Airport and bring them to Darley Dale for a brief reception and introduction to hosts. Evening meal with host families.
Sunday 5th May - Morning walk down Lumsdale, lunch in Tansley followed by an afternoon walk from Black Rock to Cromford Canal/Meadows. Sunday evening a communal party at the Whitworth with food and music.
Monday 6th May - Morning and lunch is free time with hosts. Monday afternoon a gentle walk in Hall Dale followed by a drink at The Plough in Two Dales where at 4pm we will meet Winster Morris for a special performance! Evening meal with hosts after which at about 8.30pm guests will depart by minibus to a Manchester Airport hotel where they will stay until check in for their flight departure at 06.30am.
Some hosts may make individual arrangements with their guests to get them from and back to Manchester Airport but the above arrangements are organised by the Twinning Association. If hosts are in contact with their guests, it may be prudent to make sure that they are aware of this minibus on Monday evening and the need to book into a hotel at Manchester Airport. The alternative is for hosts to be either taking their guests to the Airport or waving goodbye in Darley Dale at about 02.00am on Tuesday morning!
Association members who are not hosting on this occasion are most welcome to join in all the walks (including their dogs if they have family membership - only joking!). Members not hosting are also welcome to join in the evening party on the Sunday night on purchase of a ticket (about £8 to cover cost of food). There is of course no charge for the hosts and their French guests as costs will be covered by the Twinning Association. Please let Bill know if you would like a ticket asap as numbers are limited due to the size of the room.
More information to follow as it becomes available.
12th April 2013
Fishpond Choir
Some forthcoming event details from Vicki Clemerson
April 2013
Music from around the world
Saturday 27th April, 7.30pm
St Peter's Church, Alstonefield, 7.30pm
Tickets £10 adults, £3 children, Family £20 (2+2)
from Cathy Reavy on 01335 310125
or from Alstonefield Post Office or Natural Choice in Ashbourne
www.alstonefield.org

This next one, in May promises to be something special ...
Saturday 18th May, 7.30pm
YOU'LL NEVER WALK ALONE
A concert in aid of
The Alzheimer's Society
and
Dementia UK's Admiral Nurses
at
St John's Church, Walton, Chesterfield
Tickets £10 from Lynne Atkin on 01246 525907
or Sweets and Treats, Mansfield Road, Hasland
Following these, and for which details will follow, are ...
Saturday 28th September
Youlgreave Church
Saturday 12th October
Joint concert with London choir Men2Sing
in Wirksworth Church
Easyfundraising
Some information on Easyfundraising is included on the About Us page, have a look at the link below:
Onzain visit to Darley Dale May 2013
Details of the programme over the weekend are being finalised now and will be published shortly. We are expecting 16 visitors from Onzain and are planning some walks on the Sunday and Monday, including a communal get together and meal on the Sunday night.
Photo Diary
We are trying to complie a list of Twinning Association events over the years and include a photograph which typically represents what went on at the time. If you know of an event which we've missed please let Bill know and perhaps include a photograph which we can put on the website. Have a look at the Photo Diary page
25th February 2013
Work experience & exchange opportunities
Recently we have had a number of requests from Onzain to help with giving work experience or exchange opportunities to young people from Onzain, principally to help them with learning English language. Reciprocal arrangements are usually available where our young people get some hands on French language experience.
I have added the recent opportunities to those which have already been notified to members and the full list is given in the School Links page of this website.
If anybody feels they can help or would like their own children to benefit please use the contact form to get back to me and I will pass the details onto Onzain. Parents/carers would have to liaise with Onzain themselves to make all the arrangements.
22nd February 2013
Songs of The Beatles - SOLD OUT
All the tickets for our Beatles night on Saturday 16th March 2013 have been sold and a waiting list has been started.
If you would like to go on the waiting list for any cancellations please e-mail Bill Jameson and we'll let you know if any more tickets become available.
It should be a great night !
20th January 2013
Jameson Hills perform music of The Beatles
We are pleased to announce the revised date of the above fundraising evening as Saturday 16th March 2013 in the Terrace Room, Whitworth Centre.
Details have been e-mailed to members but in summary doors open at 7:15pm, there will be 2 sessions of music finishing at about 10:00pm.
Tickets £5 members, £6 non-members and £2.50 for under18's with an adult.
Bring your own drinks, table snacks will be provided.
Please order and pay for tickets in advance from any committee member.
Have a look at Jameson Hills website for a sample of their music:
Please support this fundraising/social event and get your tickets early as there is limited room capacity.
The booking office is now open ! Tickets are selling !
Onzain visit to Darley Dale, Saturday 4th to Tuesday 7th May 2013 (Early Spring Bank Holiday Weekend)
Onzain has accepted our invitation to visit Darley Dale over the early spring bank holiday weekend. They will be arriving here on the Saturday and returning the following Tuesday. We need to give them an idea of how many visitors we can accommodate so would members please e-mail Sandy Doyles and let her know whether or not you can host a visiting family over this weekend. Please let Sandy know by Monday 11th February.
Work Experience in Onzain Summer 2013
Last year Onzain invited some German students to work alongside some local French students doing a week's work experience on a local authority community project involving helping gardeners maintain flower beds and prepare for next season. This year Onzain have invited a student from Darley Dale to join the project for a week of work experience and French language speaking. The student must be over 16 years old and be entitled to work in the EU. He/she will be hosted by a French familiy in Onzain and be paid 150 euros for the week.
This is an ideal opportunity for someone doing A-level French - who also likes gardening ! Please e-mail Bill Jameson if you would like the contact details in Onzain. Parents/carers would have to liaise with Onzain themselves to make all the arrangements.
19th November 2012
Committee Meeting and Social
Our next twinning committee meeting will be held in the Gallery Room at the Whitworth Centre at 7.30 pm for half an hour on Wednesday 12th December 2012 followed by a social for members to have a glass of wine and a mince pie or something to welcome the festive season.
All members are invited to join in the committee meeting but if you can't make it, please come along for the social at 8pm.
Could you please e-mail Bill Jameson to let him know if you will be going to the social by Monday 10th December.
3rd August 2012
Social /fundraising night
We are planning a social/fundraising evening on Saturday 17th November 2012 so please keep this date free in your diaries. For those of us of a certain age who remember and enjoyed the music of The Beatles, we are planning a live music evening with The Classix Duo from Leeds who have agreed to waive their normal fee to play at this fundraising event for the Twinning Association. Further details will be issued as planning progresses but please keep this date free and support the band and the Association at this event.
Onzain visit to Darley Dale, 3rd to 6th May 2013 (Early Spring Bank Holiday Weekend)
Onzain has accepted our invitation to visit Darley Dale over the early spring bank holiday weekend next year. We have invited our French friends to do some walking in the Derbyshire Dales, so walking in our lovely countryside will be the main theme of the weekend. Please make a note in your diaries and watch out for further details. We will of course be needing host families and will discuss this further with members when we have some idea of numbers travelling from Onzain.
Subscriptions 2012-13, standing order
14 out of 60 members paid their subscriptions by standing order on 1st July 2012.
26th June 2012
AGM 2012
We had a successful AGM last night attended by 13 members and Cllr Dave Oakley from Darley Dale Town Council. The newly elected twinning committee for 2012-13 consists of:
Kevin Senior - Chair
Sandy Doyles- Vice Chair
Bill Jameson- Secretary
Ruth Shooter - Treasurer
Mags Robinson - Committee member
Rob Annable- Committee member
Tracey Annable - Committee member
Jane Mounsey - Committee member
Thanks go to Rachel Pearce, last year's treasurer who stepped down from the committee last night and also to Ruth Shooter who takes over as Treasurer. A warm welcome to Jane Mounsey who joins the committee after being a keen supporter of twinning for the last year.
There are still a couple of places on the committee so please get in touch with Kevin if you would like to get involved.
Teacher visit from Onzain
Kevin has recently sent an e-mail to members asking for help in accommodating 4 teachers who will be visiting our local primary schools from 10th to 14th July 2012. More details are on the e-mail . This is an initiative by Onzain to get to know our primary schools better. Please get in touch with Kevin if you can help, especially if you have a child at a primary school.
Subscriptions 2012-13, standing order
Please remember to set up your standing order effective from 1st July 2012
27th May 2012
Boules Evening
The boules evening will now be on Thursday 7th June 2012 at The Grouse Inn, Darley Dale at 7pm for boules followed by a light sandwich buffet. Cost for members is £5 and non-members £6.
Please let Sandy Doyles know by email if you will be going by Monday 4th June so we can give numbers to The Grouse. Money will be collected on the night.
Please arrive on-time or slightly early so that Mike can organise the boules teams.
29th April 2012
AGM 2012
This year's Annual General Meeting will be held on Monday 25th June at 8pm in the Whitworth Centre's Gallery room. The preliminary notice will be sent to all members on 23rd May.
Boules Evening - change of date
The boules evening previously advised as being on 21st June has now been moved to Thursday 7th June. Please see Events calendar and wait for further details nearer the time.
Subscriptions 2012-13
At a recent committee meeting it was agreed that the Twinning Association's annual subscriptions will be held at the current rates for next year 2012-13. It was also agreed that members are asked to pay this by bank standing order on 1st July each year. Details will be sent to members by e-mail.
4th April 2012
Twinning visit to Onzain 4th to 7th May 2012
We now have about 28 people signed up to visit Onzain over the weekend and remaining hosts are currently being sorted out. Everybody will be making their own way there as there was not enough support for hiring a coach on this ocassion. We will be having a committee meeting in the Whitworth on Monday 16th April at 8pm to discuss any outstanding issues and anybody who is travelling is welcome to attend.
One important point is that will anybody who is travelling to Onzain for the weekend and has not yet paid their membership subscriptions this year please get in touch with Bill Jameson and pay their subs before they go.
24 February 2012
Matlock Twinning Association has invited any of our members to join them on the next visit to their twin town, Eaubonne, near Paris. A coach will leave Slack's yard at Lumsdale, Matlock (adj to Highfields School) at 7.30p.m. Friday 1st June and arrive back between 6-7 p.m. Monday 4th June. They operate the same arrangements for hosting as we do, so that will be taken care of for you. Max. cost £100 per person (accompanied children 50% of adult price) - reducing as the coach fills up. If you would like to go, please contact direct Peter Vincent Tel. 01246 590256 or e-mail peter.vincent299@btinternet.com
25th January 2012
Details of the new Onzain town website are now available via a hyperlink from our "Home" page
The "Events" calendar has been updated to include the Boules evening in June
16th January 2012
Happy New Year to all our readers!
"Allo Allo" 2012
Tickets are now available for "Allo Allo - encore!". Cafe Rene will once again be open on Saturday 25th February 2012 at 7pm in the Whitworth Terrace Room for an evening of food, wine and entertainment. This year Rene will be serving a chicken curry and apple crumble so please let us know in advance if you have any special dietary requirements.
We are pleased to announce that the entertainment will be the same as last year with Tom & Bill on guitar and accordion and La Di Dah (The Resistance Girls) performing some of their versions of classic songs.
Ticket prices are £10 each for members and £12 each for non-members. The evening is not suitable for young folk under the age of 18 years. There will be a raffle to raise funds for twinning and any contribution of raffle prizes will be much appreciated.
Please get your Allo Allo fancy dress costumes together and make this another memorable night.
Tickets are available from Rob & Tracy Annable or any committee member
5th December 2011
Fishpond Choir Concert Christmas 2011
The Fishpond Choir is a strong supporter of twinning and one of our organisation members. Their Christmas concert is next Saturday, details below:
Fishpond Choir Christmas concert at the Cavendish Institute, Edensor on 10 December 2011 - 7:30pm. The Winster Mummers will appear during the interval also.
Tickets are £7 (adults); £4 (children under 14); Family ticket (2 adults + 2 children) £20.
Ticket lines: 01629 534204 or 01773 550660 or on the door.
28th November 2011
"Allo Allo" 2012
We are pleased to announce that Cafe Rene will open its doors again for one night on Saturday 25th February 2012 . Please make a note of this and try to support this twinning social and fundraising event which was a great success last year. Details are being finalised now and the format will be similar to last time but we have not yet confirmed the entertaiment.
Madame Edith is pushing for the main caberet slot but we have managed to resist her so far. Please support this event in great numbers to prevent Madame Edith from taking over and damaging our ears!
Further details of tickets sales, etc will be sent out soon, but it's never too soon to start thinking about your "Allo" Allo costume so we can once again bring Cafe Rene to life.
Visit to Onzain Friday 4th to Monday 7th May 2012
Our friends in Onzain Jumelage have confirmed that they will be delighted to receive us for a twinning weekend on the above dates in May 2012.
Unfortunately, the 4 primary schools will be unable to send some young musicians on this particular visit but we hope this will be achieved on a future visit. We are therefore still working on ideas for a main theme and will issue details are they are developed.
The visit is definately "on" so please start thinking about your own intentions. In the new year we will be asking for names of those intending to travel to Onzain so we can provide some numbers for the hosting families in Onzain. We will also need an idea of anticipated travel arrangements to decide whether or not we will need to book a coach.
More details to follow in early 2012.
5th October 2011
Visit to Onzain Friday 4th to Monday 7th May 2012
We have proposed to Onzain that we have a twinning weekend in Onzain on the above dates in May 2012. We are waiting for official confirmation but please put these dates in your diaries. We have deliberately kept away from the late May bank holiday which will be combined with the Queen's Jubillee as many people may not wish to travel at this time.
We are hoping to encourage young musicians from the 4 primary schools and their parents to join in this visit to make friends and play music with school children in Onzain. Look out for further updates !
28th August 2011
Twinning Association Newsletter Summer 2011
Follow the link to see our latest newsletter
/public/Newsletter Summer 2011.pdf
20th August 2011
Many of our twinning members will be aware of the Darley Dale wall hanging which the Darley Dale Stitch, Knit and Natter group designed and made from an idea from our late friend Maggie Cole. The wall hanging is now in the Hotel de Ville in Onzain, marking the 20th anniversary of our twinning link.
If you would like to see more of this type of work, the Darley Dale Stitch, Knit and Natter group are holding an exhibition of patchwork, knitting, embroidery, lace making, spinning etc at Darley Dale Methodist Church Hall on Saturday 8th October 2011, 10:00 am to 4:00 pm, Admission One Pound.
More details on the attached poster:
22nd June 2011
We are now ready for our French visitors from Onzain this coming weekend and looking forward to a good weekend of dance, music, cultural exchange and above all....plenty of fun !!
VOTE FOR VOYAGE
At our AGM last night Shirley Davison, who was the very first Chair of our Twinning Association, announced an opportunity for everybody to help in a local charity project involving Highfields School, Tansley House Care Home and First Taste. The project is in a competition with another charity to win £60.000 funding to make a film demonstrating how music and the performing arts can help dementia sufferers. If they are successful, the film will become an important resource in the treatment of dimentia nationwide.
The project will be featured at 6pm on Central ITV News on Tuesday 28th June for 2 minutes only and viewers are invited to vote for the charity to win the prize. Voting will be by telephone at 11p per call and each household can have up to 10 votes, so the total cost of voting will be just over £1.
Shirley's project is called VOYAGE, so please vote for them if you would like to support this project.
The official "flyer" for the competition is on the attached link:
6th June 2011
Planning for the French visitors from Onzain for 24th- 27th June is going well and we almost have all our hosts in place. We are still short of accommodation for a couple of teenage youngsters and also 2 youth leaders aged about 27. If anybody can help at this late stage, please contact Sandy.
Sandy has written to all hosts with further information and provided details of the weekend programme which is as follows. Please note that all members of the Twinning Association are welcome to join in any or all of the events whether they are hosting or not. We need to know numbers attending the Saturday concert and need to collect £5 each for the meal for members wishing to attend but are not hosting.
PROVISIONAL PROGRAMME
Friday 24th June
6.00pm Hosts and Guests meet at MENCAP Centre. Tea/coffee provided. We will also collect the money here (£5 each) for additional meals for Saturday night as detailed in Sandy's letter to hosts.
Evening with families
Saturday 25th June
Early morning with families then head to Bakewell for 12.00 and 2.00pm performances for La Valcissienne, the dance group from Onzain.

Lunch with families in Bakewell - suggest picnic or cafe
Afternoon Bakewell Day of International Dance
Details on http://www.bakewelldayofdance.co.uk/programme.htm
and http://www.bakewelldayofdance.co.uk/runningorder.htm

7.00pm - 10pm Evening concert and Fish and Chips supper at Darley Dale School featuring Lah Di Dah chorus, Darley Dale Band and Tom & Bill on guitar and accordion who we enjoyed so much at our Allo Allo evening. We may even get a performance from the musicians of La Valcissienne !
The meal will be fish & chips from a mobile fish & chip van so if anybody has any special dietary requirements, please let us know and we will see what we can do. Also we will include a drink on the night but you are welcome to bring your own top up drinks, as we did at the Allo Allo night. We need to know the total numbers attending by Friday 17th June.
Sunday 26th June
Morning with families for walks, resting, swimming
Early Lunch( or Brunch) with families
Afternoon - Darley Dale Fun Day 12 noon - 8pm
Details on www.thewhitworthcentre.co.uk/eventsjune.html
Evening meal with families
Monday 26th October
Morning Guests depart (Time not known) Please provide a picnic for the coach journey.

Don't forget the informal meeting for hosts after the AGM on Tuesday 21st June where the details will be filled in and all questions answered !
Also remember we are planning a return trip to Onzain in 2012
12th April 2011
Onzain has confirmed that they will visit Darley Dale on the weekend of 25/26th June 2011 and will include the dance group La Valcissienne who will take part in the Bakewell International Day of Dance and the Darley Dale Fun Day. The total number of visitors will be about 55 people including a group of youngsters in their early teens.
This